Viennese Cuisine - Austrian Recipes
Cook and enjoy!
Viennese Cuisine - Austrian Recipes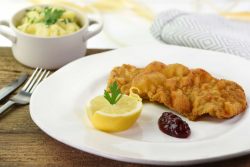 Foto: ichkoche.at / Julia Schenk
Memories and travel stories from ancient times confirm that Vienna and Austria has always been the city of gourmets and lovers of food.
It hasn't been listless work and joyless asceticism that has characterised the daily schedule in the capital city and former royal seat but the appetite for a good meal.

Times might have changed, become less tranquil and more geared towards fast living, but nobody wants to give up the delicate culinary delights of a cuisine, which encompasses the countries of the former Habsburgian empire.

Who could refuse Wiener Schnitzel, Kaiserschöberln, Powidltascherln, Bruckfleisch or Backhendl, Applestrudel and Tafelspitz?

We offer you legendary classics of long-established Viennese and Austria cuisine with precise cooking instructions, practical recipes to prepare and enjoy and all you need to know about the sweet and savoury and the crispy and spicy. A tasty, culinary panorama that leaves nothing to be desired.
Find great photograpy, step-by-step instructions and videos!
Here you can find all the recipes
Autor: ichkoche.at